Main Page
Jump to navigation
Jump to search

The Wireless Africa group is researching ways and means to develop sustainable information and communications technology in developing countries. This will be achieved through community-owned decentralized mesh networks built on open source technology.
10 December 2006 Prototype 1 of fully self-contained solar powered SA mesh node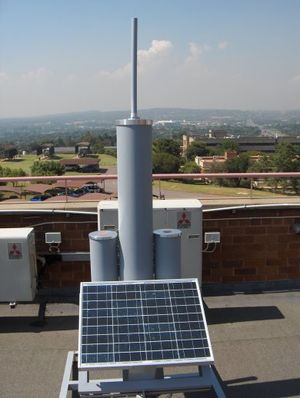 The first prototype of a multi antenna self-contained mesh node was unveiled in December 2006. This nodes operates on a 45W solar panel to power the embedded computer and three 802.11 radios. The backhaul mesh is built in the 5GHz band using 2 radios which can be switched through a matrix of 4 antennas. This allows a full duplex connection on the backhaul. The Switachable antenna matrix consists of 4 5GHz panel antennas placed at 90 degrees to each other within a weather proof cylinder. An intelligent switching algorithm is used to switch through the four antennas and locate the other mesh nodes in the network. Switching happens as soon as traffic needs to be routed between mesh nodes. A 2.4GHz band radio connected to an omni is used to connect clients to the mesh node.
More information can be found here
1 October 2006 Tin can connects rural home to outside world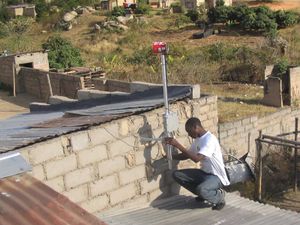 ---
NEW: Quick getting started guide for setting up an outdoor mesh node

Please use the discussion tag above to comment and provide suggestions! Please Email wa-admin(at)meraka.org.za if you wish to contribute or for further information.