Main Page
Jump to navigation
Jump to search

The Wireless Africa group is researching ways and means to develop sustainable information and communications technology in developing countries. This will be achieved through community-owned decentralized mesh networks built on open source technology.
10 December 2006 Prototype 1 of fully self-contained solar powered SA mesh node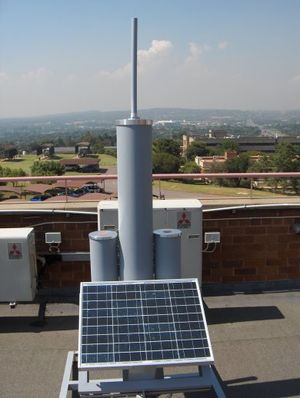 Their are a plethora of mesh routing protocols being used worldwide today (See: Wireless Mesh Networking). Some of these have become popular due to organizations taking the trouble to convert the specification into usable code that can be run on a wireless router while other protocols remain purely academic and have only been run on computer simulations. There is also a new 802.11s working group which is seeking to create Mesh Standards. Protocols for which code is available will be run on the massive mesh, indoor testbed, which consists of a grid of 49 nodes (See 1st thumbnail image). Some code will also be ported to run on the massive mesh - for example HSLS is being ported to FreeBSD and Linux. Performance metrics will be gathered such as average throughput and latency together with their variance.
1 October 2005 Tin can connects rural home to outside world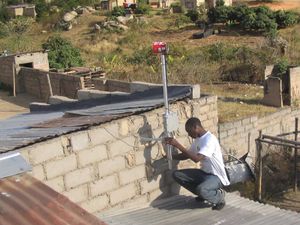 ---
NEW: Quick getting started guide for setting up an outdoor mesh node

Please use the discussion tag above to comment and provide suggestions! Please Email wa-admin(at)meraka.org.za if you wish to contribute or for further information.