DIY Mesh Guide
Jump to navigation
Jump to search
Building a Rural Wireless Mesh Network

A do-it-yourself guide to planning and building a Freifunk based mesh network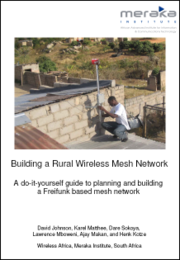 About The Guide
Building a Rural Wireless Mesh Network
Reliable, affordable and easy access to telecommunication services for all has been identified as key to social and economic development in Africa. Self-provisioning and community ownership of low cost, distributed infrastructure is becoming a viable alternative to increase the penetration of telecommunication services in rural Africa. The recent emergence of wireless mesh network technology (based on IEEE 802.11 a/b/g standards) can help to improve the delivery of telecommunication services in these regions.
The guide tries to simplfy the planning and building of a mesh network, using a step-by-step approach to setting up a infrastructure mesh node, or an access point using a Linksys WRT54gl and the Freifunk firmware or DD WRT firmware depending on the node type.
DIY Guide topics
Version 0.7_65 of the DIY guide covers the following topics:
Chapter 1: Introduction
Chapter 2: Description of a wireless mesh network
Chapter 3: Important condsiderations
Chapter 4: Required Hardware and software
Chapter 5: Planning the wireless mesh network
Chapter 6: Building the wireless mesh network
Chapter 7: Services on the network
Appendix A: Acronyms
Appendix B: Configuration Steps
Appendix C: Troubleshooting FAQ
Appendix D: Wireless Regulations in Africa
Appendix E: How to prepare a CAT5 LAN cable
Appendix F: Resources
Appendix G: Planning Sheet
Core Group
David Johnson - aka "kingdavid" is a research leader in the Wireless Africa group at the Meraka Institute. David is currently completing his PhD in California at UCSB.
Karel Matthee - Project manager.
Dare Sokoya - Dare is currently reading for his PhD at the University of Pretoria, South Africa. His passion lies in being the best in his career path and contributing his quota to the evolving telecommunication industry.
Lawrence Mboweni - Developer
Ajay Makan - Ajay's passion lies in the development and implementation of wireless networks in communities, with a specific focus on health and education in the ICT4D domain.
Henk Kotze - Henk is a technical leader within the Wireless Africa development team. He is passionate about any technology, specially technology that can benefit people's essential needs.
Download

You can download the latest version of the guide in .PDF format here
Feedback
Please send us your feedback, comments and corrections to diymeshguide[at]meraka.org.za. We would like to know how you have used the guide, whether the guide was useful in setting up your mesh network and what topics should be expanded on or covered in the guide.
Read what comments have been received
Software & Hardware and Resources from the guide
A list of all the hardware & software requirements and resources listed in the guide
---

This work is released under the Creative Commons Attribution-ShareAlike 2.5 license. For more details regarding your rights to use and redistribute this work, see http://creativecommons.org/licenses/by-sa/2.5/