DIY Mesh Guide Download
From WirelessAfrica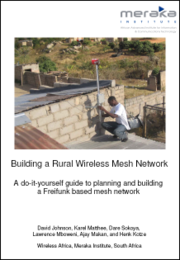 Download
The complete Building a Rural Wireless Mesh Network: A do-it-yourself guide to planning and building a Freifunk based mesh network can be downloaded in .PDF format.

Download the guide - version 0.7_65 (3.2Mb!)

Please send us your comments at diymeshguide[at]meraka.org.za
Updates and version history
The Freifunk and DD-WRT firmware is continually being updated and new releases are available on a regular basis. Always check for the latest versions online as the DIY Guide might not be updated regularly enough to reflect the newest versions of the firmware.
Release Date
Version history
Description
02 Nov 2007
version 0.7_65
Pre-release - invitation for review, suggestions and feedback before the first offical release
To Do list
List of additions and updates planned for the next release of the guide